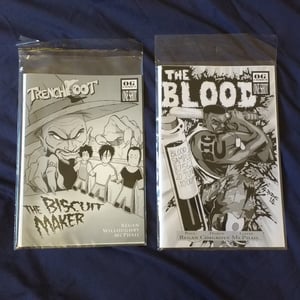 £

5.00
Two self-contained episodes from the Trenchfoot Universe.
In The Blood, written by Paul Regan and drawn by Daren Cosgrove, we introduce William 'Big C' Corona. Watch with trepidation as this ex-military hard man goes on a paranoid rampage around his suburban neighbourhood, in search of his missing blood.
The Biscuit Maker is a surreal tale featuring Trenchfoot's foul mouthed ally Kevin McCarthy, and his encounter with a mysterious magical troublemaker. Confectionary madness ensues. Words by Paul Regan, art by Sam Willoughby.